gear I use: packs
This is just one post in a group of posts about the outdoor gear I use in my own adventures. It's not about what is "the best", it's about what works (and in some cases doesn't) work for me, getting done what I need done. I'm always up for suggestions, questions and feedback, that's what the comments are for!
I don't have photos, but I still remember a couple of my first true backpacks from when I was a kid in scouts. One was this orange, frameless pack that was just one large open pocket. Then I had a pack with an external frame, green. It had upper and lower pockets, along with some small ones on the side. I never actually backpacked with them.
The hiking I did while living in Minnesota was usually short day-hikes. For most of that time I used a decent sized Eddie Bauer fanny pack to carry some snacks and water in. I still have it, I still use it, though now it is typically along with another pack of some sort.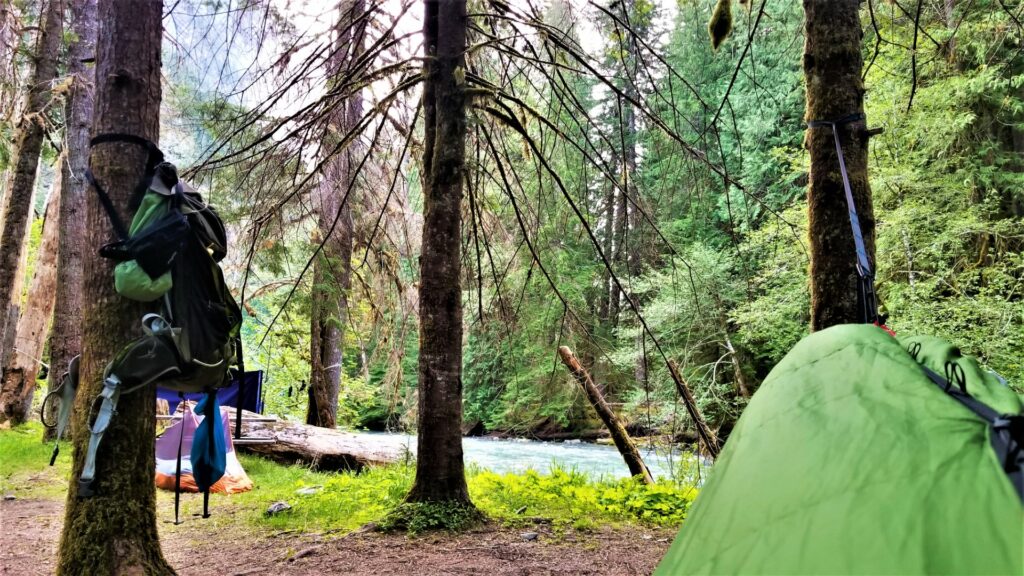 When I first moved to Washington a friend gave me an REI 27 Liter day pack. It served me well for a few years, but I wanted something that was a bit larger. I wanted the higher capacity so that I could use it on overnight trips, but also something with a bridged back for ventilation.
That led to me getting the Osprey Stratos 36. While classified as a day-pack, it's been plenty roomy for me to do a number of overnight trips with now. I've also used it for plenty of day trips, though I've found something lighter to use for those trips these days (see below).
Overall, I love this pack. Having done a handful of overnight backpacking trips with this one, I can fit what I need in and on it. Barely. I don't have room for much in the way of extras.
I knew that if I started doing any multi-day trips I would have to get a larger pack, but this is likely going to be my "go-to" overnight pack unless I want to bring extra 'comforts', as well as one I can easily use even just for longer day-hikes where I know I should bring more than just the basics.
That said, there are a few changes or additions I would make to the overall design if I could. The side access zipper should zip open from the bottom instead of the top in order to make it easier to access stuff at the bottom without fully opening the zipper. Then a few tie down loops for putting stuff like my snowshoes on the back of the pack would be nice as well. As it is, I make use of the compression straps to do so.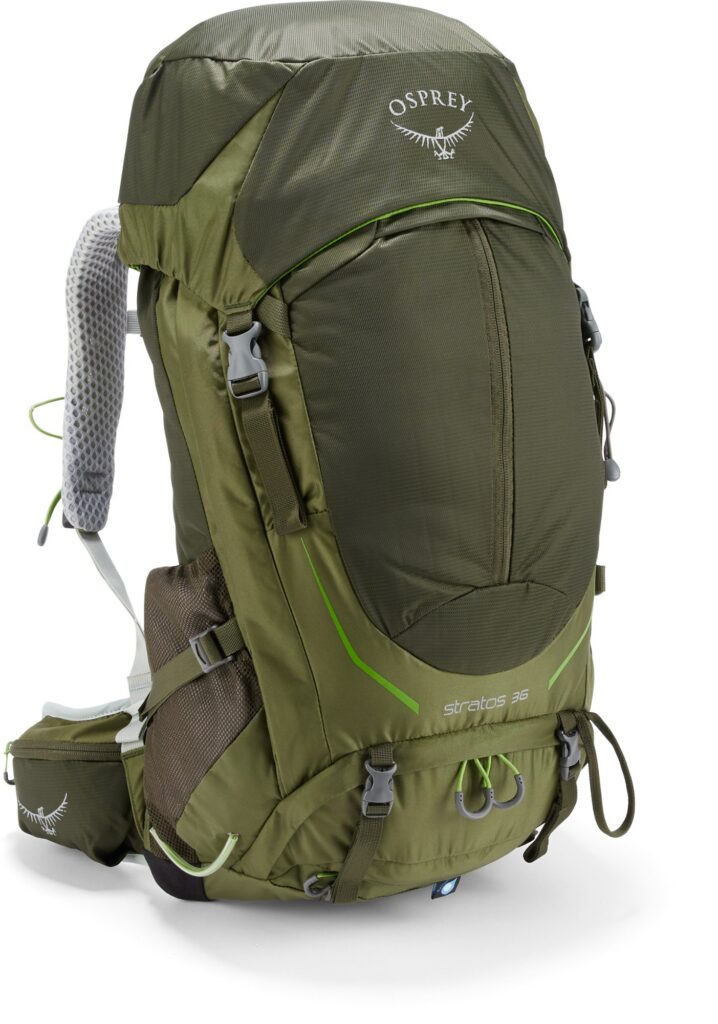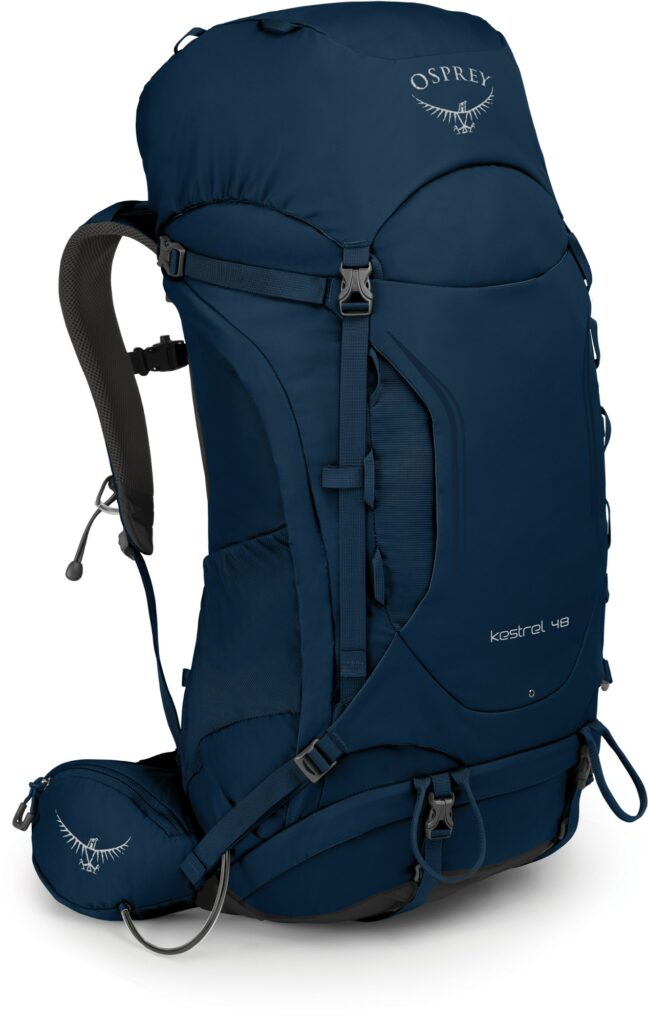 Now, for those longer trips that I would like to start taking, I stuck with Osprey, but added 12 liters in the Kestral 48. I've only had it out on one overnight trip so far, a trip this summer along the Dosewallips River. Since it was a single night, I was able to get everything inside the pack, and not have to put anything on the outside.
However, should I need to, this pack does have the lashing loops that I wish the Kestral had.
Overall, this pack is very similiar to the Kestral, just larger. And it seems that Osprey's just fit me really well.
That's the main thing though, being able to find a pack that fits you, and works for what you need. That's part of why packs and boots are two items I *must* get at REI. The 1-year return window for members alone makes it worth it. I look at it like being an insurance policy for your purchase.
I'm looking forward to really getting some use out of this pack in 2022 and beyond.
Even with the bridged back, the Stratos still traps a lot of heat, so I wanted to get something really light way for short, day-trips in warm weather. I settled on trying this drop leg pouch that has a waist belt, but then lays on your thigh. They're often marketed towards motor cycle riders.
It's not huge, but I can carry most of what I need for a day hike in it… or at least on the belt with the addition of a few additional items. I also used it on a couple backpack trips with the Stratos, where this was my "day pack" to use after dropping the bulk of my stuff off at the camp site.
In warmer weather, it's great that it doesn't sit on my back, trapping heat. However in some situations, having it stick off my leg gets a bit tricky, such as navigating some log bridges with trails, or scrambling rocky areas like in the Ape Caves at Mt. Saint Helen's. It was also weird how much I rely on my pack straps as somewhere to put my hands while hiking. There are times when using this that I felt like I had nothing to do with my hands because I wasn't carrying any poles with me at the time.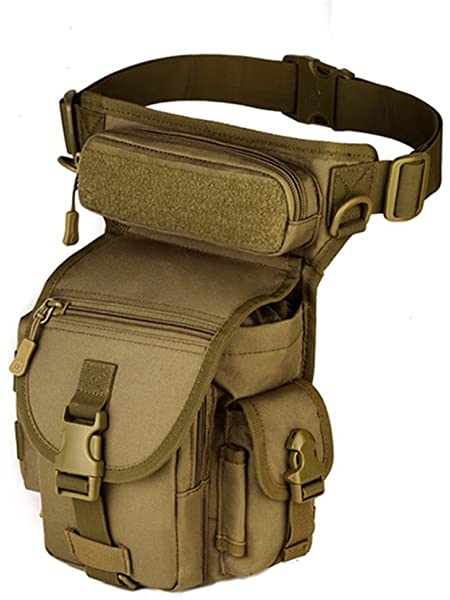 One of the add-ons I got to go with the drop-leg pack was this one for holding a water bottle. I also had another small pouch that I've had for awhile that I can wear on the opposite hip for putting a few small things like my phone, a protein bar, bandana, etc.
I've used a few things like paracord bracelets I've made to hang stuff off the back of the belt. I keep thinking I should get a roll-up dump pouch, like what hunters use for spent shells so I can have it rolled up on the belt when I don't need it, but open it easily if I need to stash something extra, like my long sleeved shirt or whatever.
Probably one of the main advantages to this set up is everything is within easy reach as I'm hiking and moving around. Oh, the exception to this is I can't access the pockets on my right leg (main or cargo) while wearing this as they get blocked by the pouch. So I either have to not use them, or put something in there I don't need access to. I am used to putting my phone in my right pocket, so it takes some adjusting, but at the same time it's also where I keep my wallet, so it's like there's extra protection from it just falling out and getting lost on the trail.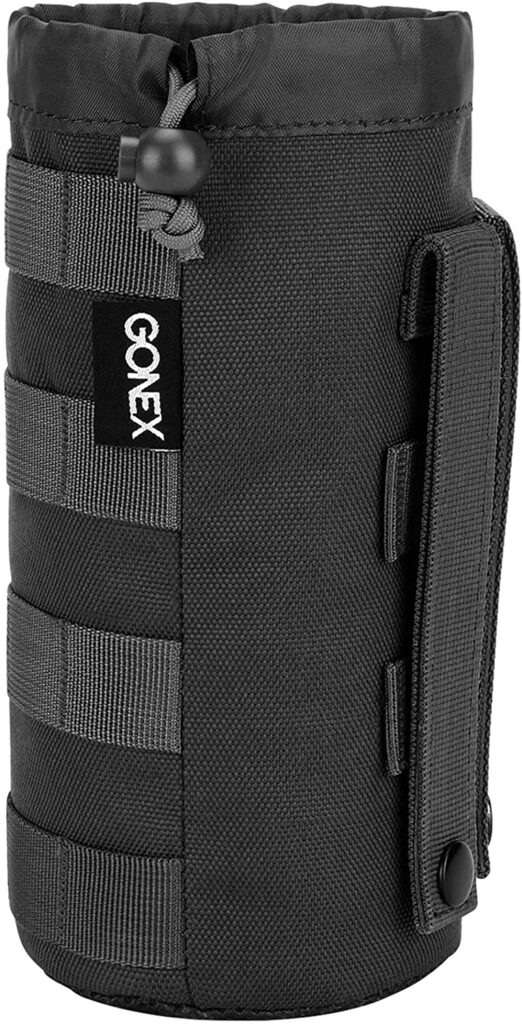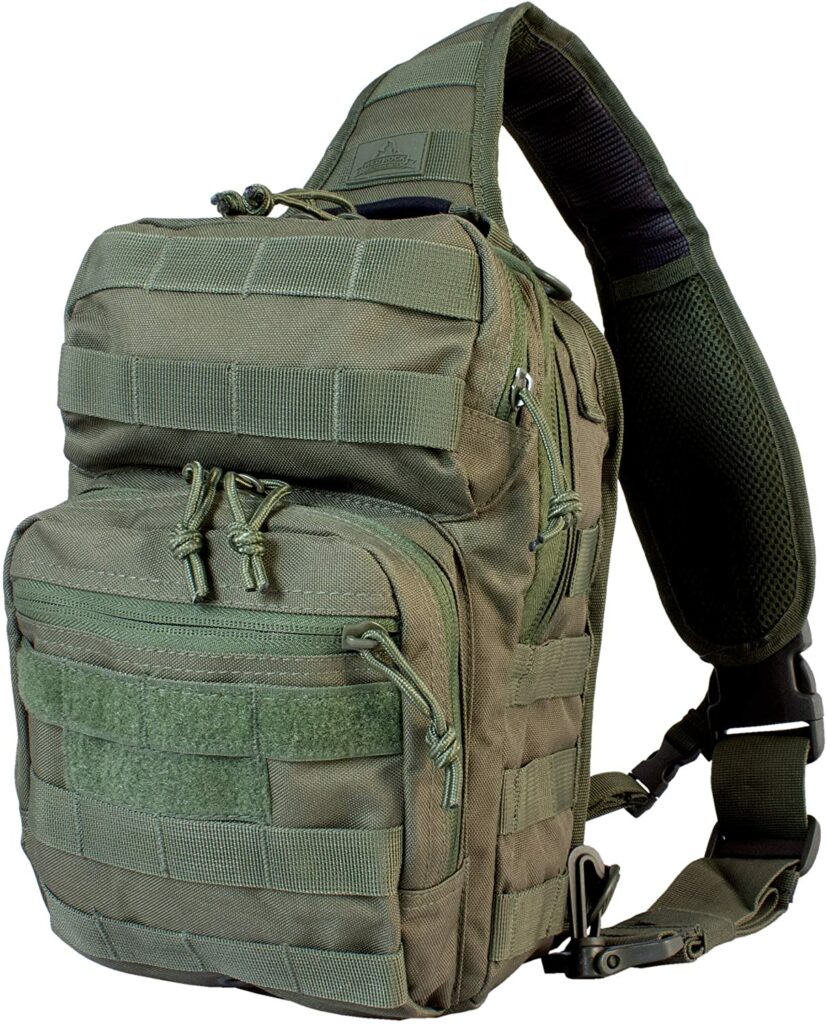 My most recent addition, and one that has become my most used pack for day hikes is this Red Rock Rover Sling Pack. It is very similar in overall design and capacity (maybe slightly larger at an advertised 9.4L vs 8.8L) as the drop leg pouch above, but it's a cross-body sling pack. It can be adjusted for any shoulder, has a side strap to help hold it in place.
It's not quite as flexible for add-ons as the belt from the drop leg, but I do use the same water bottle holder attached to the molle straps on one side. And I have sometimes attached other smaller pouches on it as well.
I can't get at anything without removing the pack, but it's easy enough to do. And often I just unclip the side strap and pull it around so the pack is on my front instead of my back. Because I can't get at the water bottle, I keep a smaller bottle clipped to the front strap that I can drink from without removing it, and refill it from the larger bottle in the pouch as needed.
I haven't done so yet, but conceivably I could use both this and the drop leg at the same time.
This coming summer, I may try taking the drop leg out more, because this still has the whole "sweaty back" issue in the hot weather, just trapping the heat against you. It's nice to have options.
I have a couple other packs that I thought I would mention….
The Condor 3-Day Assault Pack is one I picked up a number of years ago with the idea it would be my pack for backpacking. I very much like the "military" design with the molle system for being able to add additional items, or even just for attaching gear. I know it makes the pack itself overall much heavier, but I didn't think it would make a difference.
And honestly, if it just plain fit me properly, I think I would have stuck with it. It holds a lot of stuff as is. I used it as my only piece of luggage for a 5-day trip to Washington DC for a conference. I wore it during a couple hours of sight seeing around the Capital Mall the last day I was there. And, it just wasn't comfortable.
I still love how the various pockets as well as the internal dividers helped with organizing things, I tried adjusting the various straps, using with and without the belt, and just couldn't get it to fit me decently. Anything more than a day trip and it just would be too uncomfortable to wear.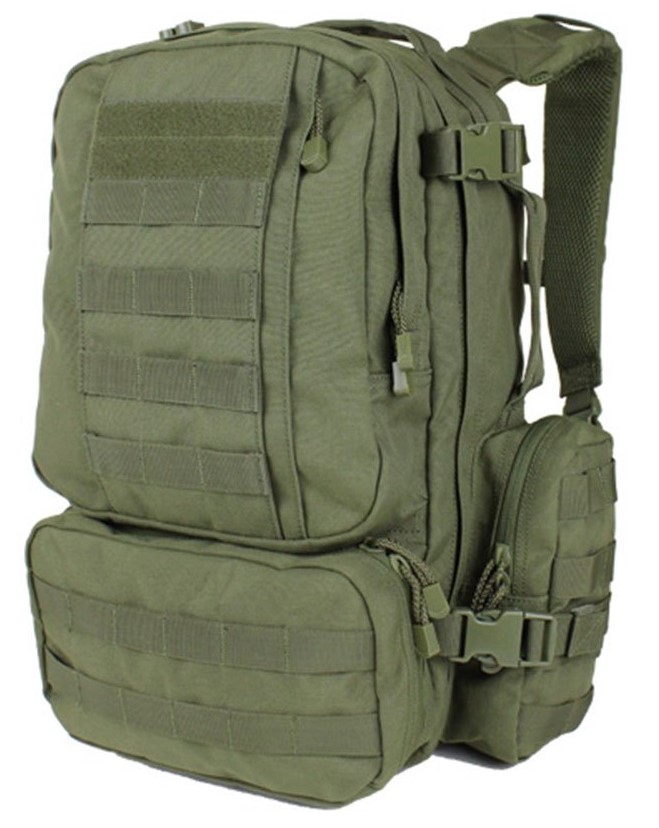 The other one I have is an inexpensive Ozark Trail Atka 28L pack from WalMart. I picked it up specifically to use as a day pack while on a road trip to Denver. I used it the most when we hiked Arches National Park. It's something very basic to toss a few things in to for a quick day trip.
It's not the most feature rich pack, no padded straps, no hip belt. But it packs up small when empty so you can toss it in a suit case or such to have for carrying some water and snacks and such if you are traveling and a day-hike might be on the itinerary.
So… yea. I think that's about it.
Packs can be a very personal thing, that's why I didn't think I wanted to get into any sort of recommendations, this is more about what I use for different situations and why… maybe it's useful… maybe not.
Check out the other Gear I Use posts for more gear related information.