baked banana bread doughnuts
I keep ending up with brown bananas and want to make some bread or muffins or something with them, but I don't get to it, and they get even too ripe for using for bread… well this time, I broke that cycle. But instead of a plain ol' loaf, we went for doughnuts.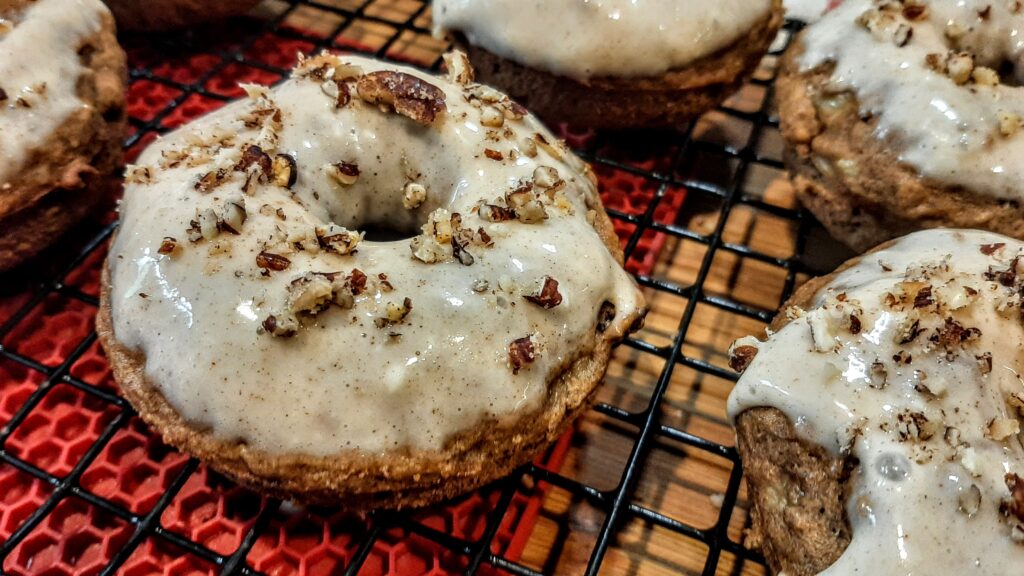 While I can't claim these are "healthy", they do make use of whole wheat flour and less sugar than many other recipes. But the bananas give you plenty of sweetness. Save a few more calories and skip the glaze. This particular batch I glazed about half of them, I also included some ground nuts in, and on top of the finished product.
All I can add is they are good, and I will probably try making them as a loaf next time, cause while the doughnuts are kewl, it's more effort than I want to deal with sometimes. So… here's the recipe!
baked banana bread doughnuts
ingredients
1-3/4 cup whole wheat flour

1 tsp baking powder

1/2 tsp baking soda

1-1/2 tsp ground cinnamon

1/2 tsp ground nutmeg

1/2 tsp ground allspice

1/4 tsp ground clove

1/2 tsp salt

1/2 cup milk

1/4 cup butter, melted

2 large eggs

1 tsp vanilla

1/2 cup packed, light brown sugar

3 medium, overripe bananas, mashed (about 1-1/2 cups)

1/2 cup ground walnuts or pecans, chopped small (OPTIONAL)

Maple-Cinnamon Cream Cheese Glaze

3 oz cream cheese

2 tbsp pure maple syrup

splash of pure vanilla

pinch ground cinnamon

1/4 cup walnuts or pecans, finely chopped (OPTIONAL)

1/4 cup powdered sugar (OPTIONAL)
directions
Preheat oven to 350° F. Spray a standard, non-stick doughnut span with non-stick cooking spray.
In a medium bowl, whisk together the flour, baking powder, baking soda, cinnamon, nutmeg, allspice, cloves and salt.
In a large bowl, mash the bananas then mix in milk, butter, egg, vanilla, and brown sugar. Slowly add the flour mixture to the banana mixture and stir until just combined. Stir in nuts, if desired.
Carefully spoon batter into the doughnuts pan, filling nearly to top. Bake until the doughnut spring back when gently pressed, about 12-15 minutes. turn the doughnut out onto a wire rack to cool completely.
Glazed Doughnuts
In a medium bowl, combine cream cheese, maple syrup, vanilla, and cinnamon. If too thin, try adding some powdered sugar until desired consistency.
Once doughnuts are cooled, either spoon the glaze over the tops of the doughnuts, or hold them from the bottom and dip into the glaze. Sprinkle some of the nuts on top.
notes
While the recipe calls for wheat flour, white could be substituted.
If made as a loaf, baking time will be 40-60 minutes, depending on size of the pan. Use a wooden toothpick to test for doneness.