an a-peel-ing gift
If you happen to catch one of my cooking streams, if there's a veggie to be peeled you will see me pull out this ancient looking device pictured below.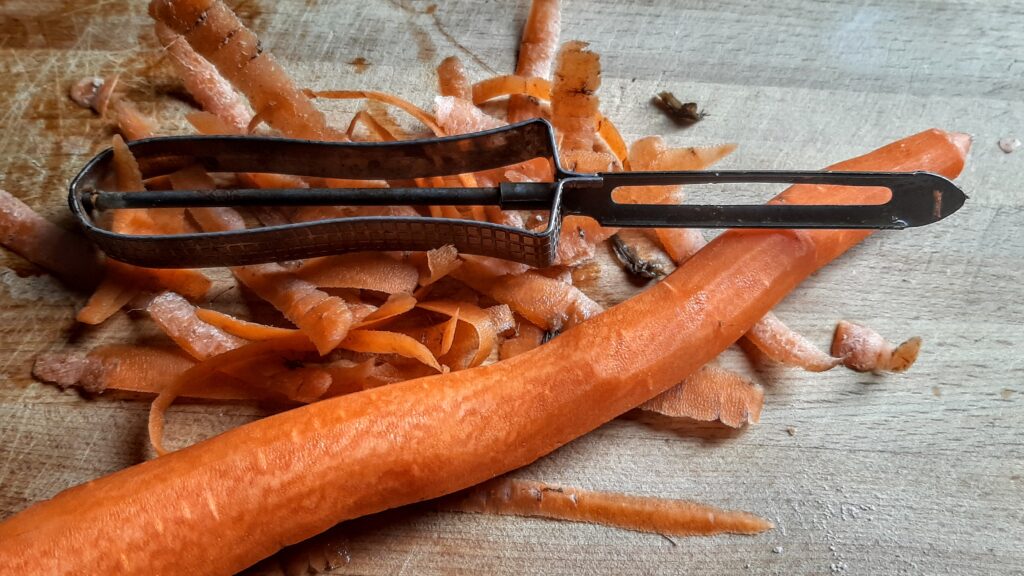 I've tried a number of peelers over the years, being sucked in by promises of ergonomics and ease of use and other buzz words. But time and time again, I come back to this simple little peeler… and I'm glad.
This particular peeler was given to me by my mother. I have memories of helping prep carrots and potatoes with this peeler when I was a kid. I don't recall exactly, but she probably gave it to me when I moved into my first apartment back during my college years. I'm sure she passed on a few other things as well, I vaguely remember a couple of cooking pots that have since probably been dropped off at a thrift store or such.
But not this peeler. It has always just worked, and worked wonderfully. I've never had to sharpen it, not sure you could if it needed it. After use, it gets rinsed, shaken off and tossed back in the drawer without a second thought. Before getting ready to post this, I never thought about what brand it was or anything, but now… I'm curious. I noticed some text stamped inside the handle, so I took a picture, sharpened it and here we go…
So, it's an Ekco Slip Pruf Nee Action. Apparently the EKCO was derived from it's founder, Edward Katzinger Company and became a division of American Home Products Corporation in 1965. Ok, I just ended up down a very deep rabbit hole. The history behind the company, EKCO is a very interesting one, and there's a detailed breakdown of it on the Made in Chicago Museum website… worth a browse.
The reason I'm sharing this though is not to extol the virtues of a brand that hasn't been around for decades, but rather thank my mom. It's not like this was an heirloom or anything, it some ways it may have even been an excuse for my mom to replace this "cheap peeler" she'd had sitting in the kitchen drawer for years. Though given my track record with other peelers over the years, I have to wonder if she ever missed it, or did she find one that can live up to the quality of this one?
But in the end, pretty much every time I reach for this peeler, I think of her. It may be a fleeting moment, but it's there. It's just one of those simple things that… is special.